New Mills Festival - Events all year round
Here is a list of events being held by New Mills Festival this year!
New Mills Volunteers evening and party - 8th March 7:30pm
Volunteers and Event Organisers Past, Present, and Future, all welcome to join together at Archies, Market Street, New Mills on Tuesday 8th March at 7:30pm for drinks and nibbles. Rescheduled following the postponement from December
If you have volunteered or helped in any way with last year's New Mills Festival; if you've helped put things up, take things down, written things, added things up, shaken a bucket, been a steward, supported the Art Trail, you count. If you've organised an event or if you're curious about what it would take to have your own event form part of the star studded line up in 2022 come along! The New Mills Festival could not happen without you, and we'd love the opportunity to see you all again, say thank you again, and get excited about 2022!
We'd love to welcome new people wanting to be involved in helping organise this year's Festival too.
If you're able to attend please do email us so we have an idea of numbers - info@newmillsfestival.co.uk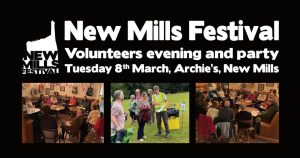 New Mills Festival 2022
New Mills Nurtures Nature - 7th and 8th May 2022
A reminder about the "Wild Weekend" in May organised by Nature New Mills and New Mills Festival. Can you get involved in helping nature to thrive in New Mills?
If you have a garden or area of land which is designed to attract nature, such as a wildflower area, a pond, a no mow lawn, a log pile, pollinator/hedgehog hotels or bird boxes, we would like to include it in our trail. It's not every day you get to show off your worm bin, so don't pass up this invitation! To have your garden or wild patch included, visit our website, www.newmillsfestival.co.uk, and complete the online form.
To be included in the printed trail booklet, you need to register by the 1st March. After this date, you can still register for inclusion on our online map.
A few photos to get you buzzing - including the wonderful wild flower verge along High Lea Road (photo Caroline Mackenzie), a pond from Hurst Lea Road, and our very own Goyt Meadows.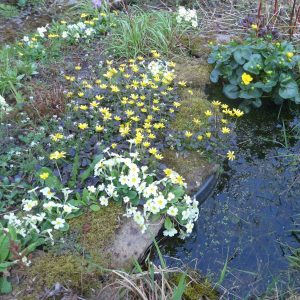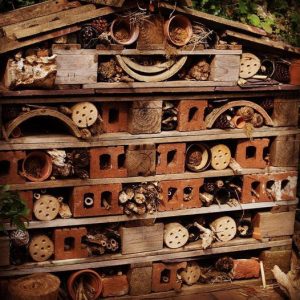 New Mills Nurtures Nature
For More Information click here: