Get in the Festive Mood with Buxton International Festival
To celebrate the festive season, Buxton International Festival are thrilled to share a series of classical Christmas playlists, selected by Buxton International Festival artists, with you! Today, you can view what is included in the first collection, chosen by Martin Roscoe and Klezmer-ish. The second selection will be shared via newsletter on the 19th December.
The performances can either be viewed individually on YouTube via the links on Buxton International Festival blog or watched as playlists on the Buxton International Festival YouTube channel. 
---
One of the UK's most-loved pianists Martin Roscoe shares his favourite pieces in this first festive collection. 
Martin Roscoe's extraordinary career spans over four decades and he is one of the most regularly played pianists on BBC Radio 3, having had over 600 broadcasts including seven BBC Proms appearances.
View Martin Roscoe's Playlist Here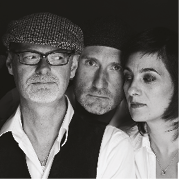 Klezmer-ish, four incredibly outward-looking classically trained musicians who met whilst playing with the Royal Liverpool Philharmonic Orchestra have curated our second classical Christmas playlist for 2020.
Drawing inspiration from the music of bygone travellers, the quartet explore the music of immigrants from various cultural backgrounds who left their homelands in pursuit of a different life. From rip-roaring klezmer and dynamic tango to their self-penned gypsy jazz, Klezmer-ish bring a trademark twist to whatever genre takes their fancy.
View Klezmer-is's Playlist Here
Legendary arts journalist Rupert Christiansen has given Buxton International Festival a special mention in his last despatch as opera critic for the Daily Telegraph.
"I owe a shout out to the greatly lovable Buxton Festival," he wrote in an article covering his 25 years as a critic in which he praised the "extraordinary boom in summer festivals."
Read the full blog post about Rupert Christiansen Here