Creative Project Marks Moments in Time
An innovative creative project, involving a group of 70 young people from across Derbyshire, has been officially archived so that future generations can learn about their thoughts and experiences.
'Moments in Time' has been led by Cromford-based independent producing company
Adverse Camber
which teamed up with
Derbyshire Virtual School
and other Derbyshire organisations to work with care-experienced young people.
The project, funded by
The National Lottery Heritage Fund
, Youth Music, Derbyshire Action Grants and Foundation Derbyshire and in partnership with Derbyshire Record Office, Amber Factory and Baby People arts organisations, originally launched as 'Moon Stories' in September 2019.
Working with creative mentors from Derbyshire Virtual School, young people started recording people's memories of the 1969 moon landings as part of the 50th anniversary celebrations – including visitors to the 'Museum of the Moon' art installation at Derby Cathedral - and then making their own creative work.
However, when the pandemic hit in early 2020, the focus of the project shifted and the young people started exploring their own personal memories, experiences and feelings both before and during these unprecedented times.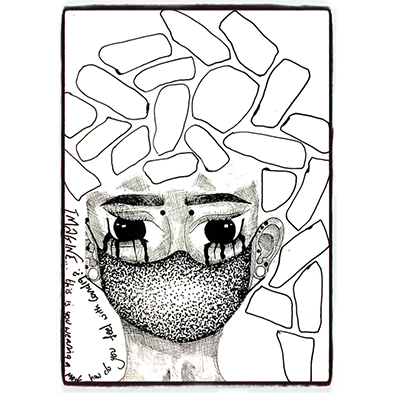 This collection of more than 400 stories, poems, photographs, artwork, films, songs and music created during the pandemic as well as recordings of Derbyshire people's memories of the moon landings have now been collated into an extensive physical and digital archive which will be stored in the Derbyshire Record Office in Matlock for future posterity.
Celebrating the launch of the archive, a book and film with highlights of their work and interpretations by storyteller Maria Whatton has been released on YouTube. 
And a giant artwork on a canvas made from 42 carefully stitched together disposable face masks has been created by fine artist Carol Harries-Wood who was inspired by the young people's work.
This artwork will be on display during December at Wirksworth Library before moving to Ashbourne Library in January 2022 and then Belper Library in February.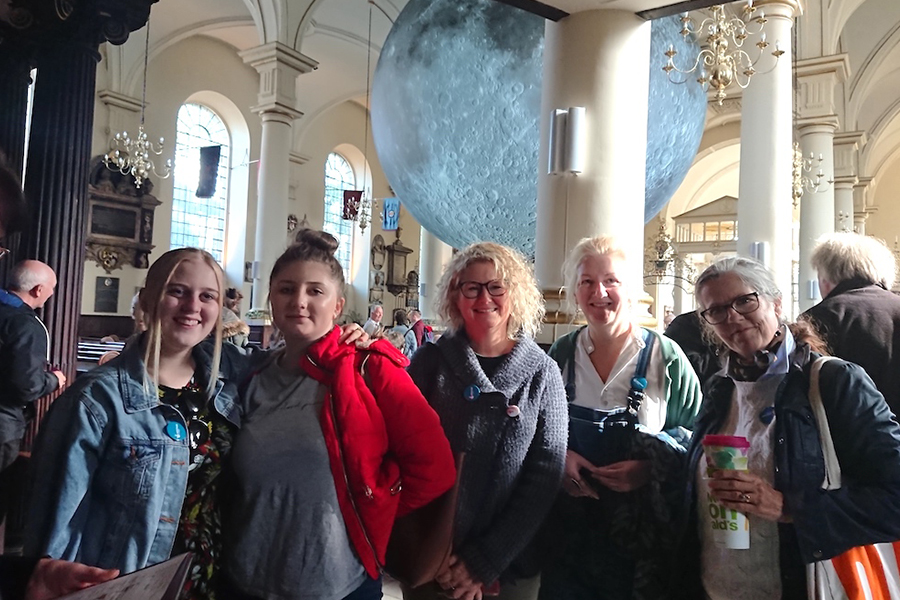 Adverse Camber founder and producer Naomi Wilds explained: "As the creative project developed, it became clear that young people's experiences in the pandemic, and how our world views are changing, had a great deal of synergy with the momentous change represented by the era of the moon landings. 
"We hope that the archive and particularly the film produced from young people's work will resonate with young people now and those who access the archive for many decades to come, potentially inspiring new creative work in the future."
Kim Johnson from Derbyshire Virtual School continued: "This has been an amazing project for the young people, for their skills, confidence and understanding of the significance of their contributions to this extraordinary collective of culture and history.
"It is also an important celebration of the resilience of these young people through recent challenging times which have been just as significant as the 1969 moon landing – giving us new insights for the future."
Anne Jenkins, Director, England, Midlands & East at The National Lottery Heritage Fund says: "We are delighted to support Adverse Camber in the recording and archiving of the Moments in Time project. This grant, made possible by the National Lottery players, ensures that the voices and memories of young people from across Derbyshire can be heard for generations to come."
Derbyshire County Council Leader and Cabinet Member for Strategic Leadership, Culture, Tourism and Climate Change Councillor Barry Lewis said: "Capturing living memory is a powerful way for us to record and understand our history.
"Add this to the creative talent of these exceptional young people, and 'Moments in Time' is a project which all the participants should be very proud of. We are delighted to hold the project archive at the Derbyshire Record Office."