Burning Man Comes To Chatsworth in a UK First for the Monumental Sculpture Event
Huge sculptures from Burning Man, held in Nevada's Black Rock Desert, USA will be making their UK debut at Chatsworth this spring at an ambitious and free-to-access exhibition in the Derbyshire estate's parkland.
Radical Horizons: The Art of Burning Man at Chatsworth is a large-scale exhibition in the publicly accessible 1000 acre park surrounding the house, which sees 12 monumental sculptures from Burning Man, going on display in the UK for the first time from 9 April to 1 October.
While Radical Horizons takes place in Chatsworth's parkland, a second exhibition Living With Art We love: An exhibition presented by the Duke and Duchess of Devonshire will be taking place inside the house from 26 March to 9 October.
It features favourite items from their acquisitions over the past 40 years, few of which have been on public display, including paintings, sculpture and furniture, and including some works from the historic collection with a section dedicated to Lucian Freud in that artist's centenary.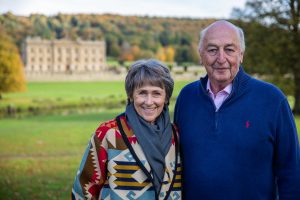 Image Info: Duke and Duchess of Devonshire© Chatsworth House Trust
The Duke and Duchess of Devonshire, said: "We're delighted to be announcing this celebratory programme for Chatsworth. The exhibition in the house is a marker in time - a record of our acquisitions that we want to share with others - while the sculptures in the park continue the great tradition of the estate as a backdrop for contemporary works. We very much hope that visitors find inspiration here in this special place."
The Art of Burning Man at Chatsworth

Radical Horizons: The Art of Burning Man at Chatsworth is an ambitious sculpture exhibition designed to celebrate a shared culture of making and collaboration. Burning Man is a unique event that usually takes place annually in the Black Rock Desert in Nevada, USA, and Chatsworth has worked with the Burning Man team and artists to bring its distinctive culture of possibility and creativity to the Derbyshire landscape.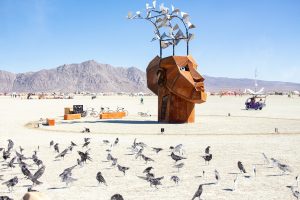 Image info: The Flybrary by Christina Sporrong and Murder Inc by Charles Gadeken © Photography by Tex Allen
Chatsworth and Burning Man were introduced by Sotheby's, who saw a synergy between the two organisations in their commitments to creativity and community.

The exhibition features eight existing sculptures and four works built on site, including three new participatory sculptures that will be created in the parkland with the help of visitors and local community groups over the course of the year, mirroring the build process at Burning Man that sees teams of volunteers gathering in the desert to create new artworks.
Free to access and enjoy for all, the exhibition also benefits from a dedicated engagement programme working with communities of people who generally find Chatsworth hard to access, offering activities designed to leave a legacy of creative possibility and new connections with people.
The Burning Man Project produces the annual Burning Man event in Black Rock City, and works year-round to extend and facilitate the culture that has grown from the event into the larger world.
Kim Cook, Director of Creative Initiatives at Burning Man, said: "We've come to understand Chatsworth as a place to foster innovation, creativity, thoughtfulness and thinkers since its early days, something that is also central to our work and ethos at Burning Man. Our hope is that the art in the landscape will provoke joy, new ways of viewing, and be an invitation to make up your own story about meaning as you explore the beautiful expanse of Chatsworth."
Living With Art We Love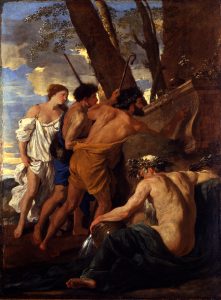 Image info: Nicolas Poussin
The Arcadian Shepherds, c. 1627 - 1629
Oil on lined canvas
© The Devonshire Collections, Chatsworth. Reproduced
by permission of Chatsworth Settlement Trustees
The Duke and Duchess of Devonshire are longstanding supporters of artists and makers alike and have collected works throughout their lives. This exhibition brings the artworks that they live with and love into the public areas of the house to share with visitors for the first time.
Specially selected objects include paintings, sculpture, furniture, ceramics and textiles. Contemporary artworks by Michael Craig Martin, Edmund de Waal, Natasha Daintry and Felicity Aylieff – artists actively collected and commissioned by the Duke and Duchess – are shown alongside historic art from the Devonshire Collections rarely seen in public, including major works by Poussin, Rembrandt and Boltraffio.

The exhibition also includes a special section on 'Freud at Chatsworth' dedicated to Lucian Freud, which sees all the artist's paintings, drawings and prints in the Devonshire Collections on display together in his centenary year. These works span the entirety of Freud's career and include the major themes of his oeuvre: portraits of his mother, partners, friends, family, and animals. Andrew Cavendish, 11th Duke of Devonshire, began collecting and commissioning work by Freud after the two men became friends in the late 1940s. Freud spent time at Chatsworth and in total painted six members of the 11th Duke's family over a period of 20 years.
Alexandra Hodby, Senior Curator of Programme at Chatsworth, said: "It is wonderful to bring together this group of works, which represent the span of Freud's life, and celebrate his relationship to the Cavendish family over many years. We're grateful to private lenders, who have allowed us to bring back two paintings which were once part of the Devonshire Collections, and reunite them with the works at Chatsworth."
For More Information Click here: www.chatsworth.org/events/burning-man