Tough Weather Conditions? Lead And Roofers Are Tougher!
As autumn turns to winter, we at Midland Lead are all too aware that the British weather can be both challenging and unpredictable. In this article, we're highlighting the unrivalled qualities and reliability of working with lead in roofing – but also recognise that roofers and contractors are tough and they don't let the weather stop them.
Unpredictable weather is part of daily life in the UK and we expect roofs of buildings, old and new, to hold out against the elements, even in the toughest of conditions. Rain, wind and freezing conditions are natural challenges that roofing is exposed to during winter up and down the country.
Even the sturdiest of roofs can't always sustain all that the British weather has to throw at them, so it is vital that roofing contractors and builders take extra safety measures and trust that the materials they are using can stand up to the conditions.
Lead's natural durable properties make it the ideal solution for roofing, including repairs and renovations when weather or time has taken its toll. As well as being non-corrosive and flexible, lead sheet doesn't lift in high winds and can withstand fluctuations in extreme temperatures making it suitable to be fitted all year round.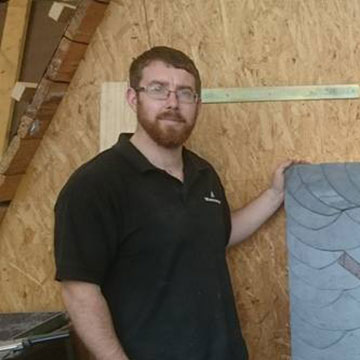 Matt Timby of Timby Roofing carries out work on roofs and working with lead whatever the weather, but also takes some extra precautions; "Many of the day-to-day processes of working with lead on roofing work are similar all year round, and we are all too aware that bad weather can come any time of the year."
"Unlike some other metals used in roofing, lead doesn't tear when working with it at low temperatures, it's a superior material and can be installed all year round. However, lead can become more rigid in the colder weather so applying localised heat, especially when using thicker codes, can help if needed."
"Low temperatures can be the biggest problem during winter especially with regards to the safety of people. It is important to be aware of slippery work surfaces and gutters and outlets can become blocked with snow or ice especially first thing in the morning when returning to work. One of the things we always do is to use sheeting to cover work areas overnight to keep frost off. If budgets allow, temporary roofs are great for protection during the winter and trace heating pipes can be installed along gutters to prevent freezing of gutters and outlets. Using precautions like these keeps the workforce safe as well as protecting the fabric of the building."
"One of the main things we ensure is to maintain the watertight integrity of the roof structure during work, for example, ensuring that we can cover the roof area quickly in the event of rain, ice or high winds. For refurbishment work, we usually only strip and work on areas that can be easily re-covered within a working day."
Lead is not only sustainable, but it is also far more reliable and easier to use than lead alternatives and can help a roof to survive the most adverse weather conditions. And, with claims of some lead roofs having had a lifespan of 500 years, it is a product that has demonstrated its worth.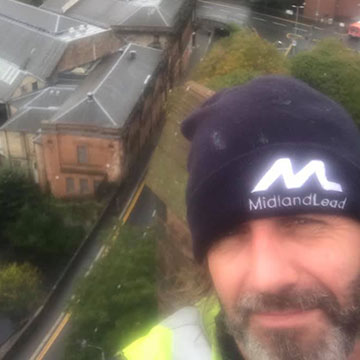 Geo Gargan of Glenbuild is a roofing and lead specialist who doesn't let the weather deter his ongoing work but takes some extra measures during the winter months; "Working at height outdoors in the winter, especially in Scotland, is not for the faint-hearted, but winter can be a really busy time of year for roofing repairs so it's always good to be prepared for the unpredictable weather conditions."
"Lead is definitely the best product in many respects, especially when working on roofs in freezing conditions, as it can be used in any weather as long as all the usual precautions are taken. If extra durability is required it can also be really helpful to pre-warm lead to maintain its pliability. But my biggest tip would be to ensure you wrap up warm, wear gloves and never cut corners, no matter how cold you get!"
To ensure lead performs at its best, whatever the weather, it has to be applied correctly. Here are our top tips to ensure leadwork remains weatherproof:
Only use clips on sheltered areas as they have been known to fail in high winds. Use additional fixings on exposed areas
It's important to allow for thermal movement so that joints are secure and watertight but still flexible
Use lead sheet sealant for pointing, which provides a weatherproof seal between lead and brickwork and masonry
Applying patination oil to the top and even the underside of leadwork helps to protect the lead as well as preventing staining
While there are many alternative lead products available on the market, they do not carry the same weighted history of survival or the robust and aesthetically pleasing solution for roof repairs. Most non-lead manufacturers don't know how long their products will last, therefore are not prepared to guarantee a lifespan of longer than 10 to 20 years.
By choosing lead sheet or flash fittings on a building you are investing in a long-term solution. Midland Lead's products are manufactured to the highest standards and our machine cast lead sheet comes with a 60-year guarantee and is approved by the British Board of Agrément (BBA) and NHBC.
Find out more about Midland Lead and how we serve the construction, radiation protection and other industries with our lead products: https://www.midlandlead.co.uk/