Raising Mental Health Awareness at Work
At Midland Lead, we know that our most valuable assets are the people who work here. As a family-owned business, our employees are at the heart of everything we do.
We've always been supportive of campaigns that help to raise awareness of mental health and well-being, both in and out of work. With the recent launch of the NHS initiative 'Every Mind Matters', it makes us reflect on how we continue to offer support to everyone who works at Midland Lead.
To help enable us to effectively listen to our staff, over the last two years we've held workshops and sessions to find out what is important to every member of our team, with the help of organisations such as ACAS, Loates HR and Beacon Learning & Performance. Following feedback, we upgraded our facilities, including showers, break-out spaces and the canteen, to make sure that people have somewhere welcoming, clean and tidy to spend some time away from their workstation.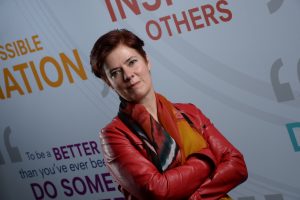 Francoise Derksen, HR Manager at Midland Lead, is really keen to encourage people to talk more about their mental health and well-being – in and out of work; "I've recently completed Mental Health First Aid England course with Amanda Jackson of Beacon Learning & Performance. One of the things that I feel very passionate about is to raise awareness of mental well-being within our team here at Midland Lead. It's really important to me that we are able to recognise the signs of mental health illness, and more importantly to understand how we may be able to help those we work with to find the support they may need.
"This is not something I've undertaken as a one-off project, or as part of a duty.  Mental health awareness is something that forms part of our business strategy, now and into the future. One of our core values is that we look out for each other and that includes anything from health and safety matters to caring for the well-being of your colleagues. 
"The course with Amanda was excellent, but that's just the start, the learning now needs implementing within the organisation and that's something that I will be helping to deliver over the next few months. We already have a staff health and safety committee, and together with them I will develop a plan to raise mental health awareness and promote activities to increase employee mental health well-being.
"At the moment we make a conscious effort to take time out for a break, celebrate our successes and do activities we enjoy together, such as football or cake mornings. In the future I'm sure that the team will come up with many more initiatives to make working at #teamMidlandLead even better."
Sarah Loates, Director of Loates HR, works closely with Midland Lead, offering HR support and guidance for their fifty staff; "The thing that differentiates Midland Lead is that they genuinely care about the mental health and well-being of every one of their employees. This is underpinned by their culture and core values that recognise the balance between being a result-driven progressive company, and truly caring for each person that works with them."
"Midland Lead has a number of measures in place to ensure that they recognise early signs if people may need support or have personal challenges that they can help as an employer, for example, counseling or bereavement support."
"The management team also hold regular one-to-one meetings with their staff and, although many companies do this, Midland Lead's approach is to focus open discussion around engagement to ensure they offer support and monitor an individual's well-being. This also helps to provide an open approach to discussing issues, should they ever arise, and then offering support if appropriate."
Here at Midland Lead, we also constantly work on ways to effectively engage with all members of staff. We recently became a member of the Institute of Customer Service, and part of the membership process was recognising that our biggest and most important customer is our staff. That's why we constantly engage with all our team members from MD to the shop floor. Although we recognise we all have a journey ahead of us, we have come a long way in improving the working environment and support networks available to our employees, contributing to employee mental health and well-being.
We are increasingly aware of the real impact that stress and anxiety can have in the workplace. If you're currently experiencing issues with your mental health and well-being but don't feel your workplace has the infrastructure to help you, there are alternative options. Campaigns such as Every Mind Matters and Mates in Mind can provide practical advice, and even phone apps that will offer access to listen, guide and support.