Midland Lead has become a member of The Institute of Customer Service
We are celebrating National Customer Service Week with the announcement that Midland Lead has become a member of The Institute of Customer Service.
The Institute of Customer Service is an independent professional body that measures and upholds customer service standards for companies that aim to continuously improve the way they work with their customers and staff.
Here at Midland Lead we know that customer service always starts with our staff – every member of our team from shop floor to MD is the most important customer we have. They are the ones that work hard and efficiently to ensure that the products are manufactured to the highest standards, that orders are processed, and that advice is offered.
Our team supply all our customers' requirements made-to-order, we don't supply off-the-shelf products, and therefore Midland Lead has a strong reputation for maintaining high levels of service excellence.
Becoming a member of The Institute of Customer Service has been something that every member of staff has been involved with and have worked towards for several months, and one of the benefits of becoming a member is that we continue to assess our service levels throughout the company. Part of this process involves asking every member of our staff, from MD to shop floor, to anonymously fill out a questionnaire that asks their perception of our service levels.
To coincide with National Customer Service Week, this week our internal company questionnaire will be launched. Feedback from our staff will be processed by The Institute of Customer Service who will review and report findings back to us. Following this we will also be circulating to each of our external customers, and again the results will be processed and reviewed.
Francine Mason, Sales Office Supervisor at Midland Lead, is managing the project and co-ordinating sending the questionnaires out to staff and customers, she recognises how important it is to get a candid and 360 degree view on how we work with our customers; "We have been working closely with The Institute of Customer Service for a number of months now, but we are only just at the start of this process – and we know that customer service is something that should always be evolving and improving.
"The most effective way we can achieve excellence in customer service is to recognise and listen to our staff first and then our customers. The results of these questionnaires consider views of every single member of Midland Lead from packers and cutters to sales and senior management. This isn't just a tick-box exercise, the results will give us clear actions on what changes we could make to continuously evolve our customer service levels and show us where we have made positive impact already."
One example of how the Midland Lead team has already made significant changes as a result of customer feedback is to investigate reports of damage to product during transportation. Our research looked at every aspect of the product journey including movement during transportation, how pallets were wrapped, loaded and unloaded. What we discovered was that, although the damage was happening when pallets were being unloaded, we wanted to see if changes to our packaging would reduce this damage – and it did. In consultation with our packaging and despatch team, we made changes to the way we package customer orders and now we are confident that customers receive their product in the same condition that it left Midland Lead.
Lynn Street, Sales and Marketing Manager, knows that opening up communication and supporting staff is one of the best ways to achieve excellent customer service; "One of the first things that many of our customers do is call, email or see one of our sales team face-to-face. Each order we receive is handled personally and made-to-order. Customer service begins with our team and is followed up with superior quality products delivered when promised.
"For us the staff are always our first reference point when we look at reviewing our range of products, accreditations, packaging and order processing. We know that it is them who has first-hand experience about what customers want and how the industry is shaping up. Therefore the questionnaires that we have sent to our staff will help us ensure that we are listening and acting. This then helps us to continuously make improvements to our service and product choices and helps us to decide which areas we need to focus on.
"Service is not just about making sure the customer is happy with their order. We offer advice from people who have worked with lead applications and we regularly hold training sessions with our team to make sure they know the latest developments in our product range and have the opportunity to feed into our future."
Jo Causon, chief executive of the Institute of Customer Service comments: "I'm delighted that Midland Lead are members of the Institute of Customer Service. It's a sign of intent and recognises the importance of delivering excellent service to customers. By joining forces with organisations from a wide variety of sectors, Midland Lead is making a clear statement that the customer experience is at the heart of all they do and are committed to continuously improving.
"Membership of the Institute also provides the opportunity to benchmark against other organisations in a range of sectors; opportunities to share with and learn from other members within the extensive network; access to our research and insight; and the opportunity to drive service professionalism, through our customer service qualifications programmes."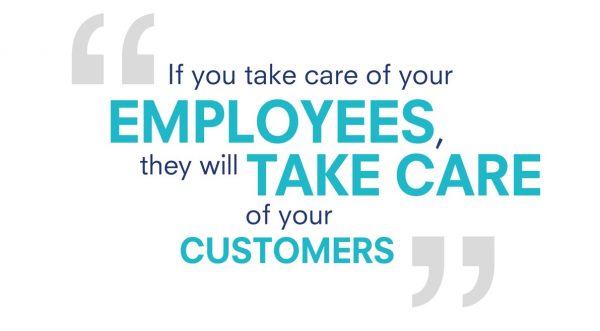 We pride ourselves on putting our customers at the heart of the business, and we know this wouldn't be possible without the support and commitment of the Midland Lead team in the office and on the road.
We are always happy to offer advice when it comes to choosing the right lead products, whether you need a recommendation for your next project or some guidance when it comes to lead handling, you can call our expert customer service team on 01283 224555 for more details.