First Fridays at the Museum of Making: Cabaret Mechanical Theatre
                       Image: Pirates – automata by Wanda Sowry, image © Steve Tanner
Get inspired to make your own automata at a Cabaret Mechanical Theatre workshop, where you'll join our special guest artist Stephen Guy to design and make your own automota. First Friday workshops are available for all ages.
Create and design your own automata with Cabaret Mechanical Theatre artist Stephen Guy.
Since 1979, Cabaret Mechanical Theatre (CMT) have played an integral role in the revival of automata (a mechanism that is relatively self-operating) and have supported a growing number of automata makers. Their visually stunning art, science and engineering exhibitions have been seen by millions of people worldwide. Ahead of the opening of the Cabaret Mechanical Theatre exhibition at the Museum of Making, join CMT artist Stephen Guy to create and design your own automata.
Who is Stephen Guy?
Stephen Guy is a designer-maker specialising in mechanical art or automata. He discovered automata at the legendary Cabaret Mechanical Theatre many years ago and still works closely with them.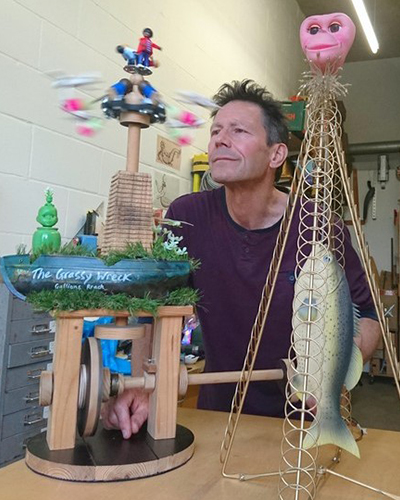 Image above: Stephen Guy with his automata
Stephen also works as 'Fire the Inventor', running creative workshops that explore how mechanisms work, the science behind them, and how art can be engineered. He also produces interactive automata for Cabaret exhibitions, demonstration machines and educational kits.
What should I expect?
The evening will be split into three workshops to ensure suitability for all ages!
6pm – 6.45pm – Workshop for families with children of primary school age
7pm – 7.45pm – Workshop for families with children of secondary school age
8pm – 9pm – Workshop for adults (those aged 16 and over)

Booking is essential. A participant ticket is £6.50, those attending the event but not participating in the workshops can go free but must still book a free space.
Suitable for all. Under 16s must be accompanied by an adult.
This evening is co-produced by Derby Museums and Cabaret Mechanical Theatre.