Discover the creative potential of rubbish with a new exhibition by Michelle Reader
Discover the creative potential of rubbish with a new exhibition by Michelle Reader at The Harley Gallery 
Michelle Reader: Recycled Sculpture will be on show at The Harley Gallery, Welbeck from 14th May until 24th July. This new free entry exhibition shows astonishing large scale wildlife sculptures – all made from an extraordinary array of domestic waste.  
In the hands of sculptor Michelle Reader, a broken fan might become part of a mountain goat, or a paintbrush the beard of a bearded vulture.  
Michelle's sculptures highlight the links between the things we consume and the destruction of wildlife habitats, while at the same time portraying the beauty and wonder of the natural world.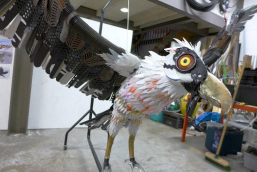 Visitors at the exhibition can see three of her sculptural installations, accompanied by films which document the making process. 
If your kids want to have a go, Michelle is running a workshop on Friday 3rd June at 2 pm where she will guide families through the process of making their own recycled animal sculpture. This is a great way to keep the family busy during the long bank holiday weekend and is recommended for children aged 5-11 (for younger artists, there is a craft workshop for  the under 5s earlier in the day.) Tickets cost £6 per child and accompanying adults go free.  Booking is essential - please visit www.harleygallery.co.uk for full details.  
Michelle is based in The Harley Gallery Studios. She has been working with recycled materials since 1997 and is a Fellow of the Royal Society of Arts. She has created artworks for companies such as the National Space Centre, the Royal Horticultural Society, the Port of London Authority and BSkyB. 
Outside in the courtyard, you can also see Michelle's new commission for the Harley Art  Trail, which leads to the nearby prehistoric site Creswell Crags. Michelle has made a pair of horses, one modern and one ancient, which she has crafted from reclaimed metal sourced on the Welbeck estate.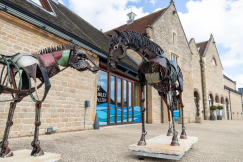 This exhibition is part of The Harley Gallery's 'Visions of Welbeck' season, a series of exhibitions that each explore different visions of the historic Welbeck estate. Visitors can also enjoy an exhibition about the life of the 5th Duke of Portland, interior décor by Kyra  Cane, who is also based in The Harley Studios, and miniatures by contemporary artist Sofia  Mitsola shown alongside historical paintings from The Portland Collection.  
Michelle Reader: Recycled Sculptures is showing at The Harley Gallery from 14th May 2022 – to 24th July 2022.
The Gallery is open Tuesday- Saturday 10 am – 5 pm, and Sunday 10 am – 4 pm. 
Free entry. Free parking.
For opening hours and info on current exhibitions, visit www.harleygallery.co.uk