Call for Events: New Mills Festival 2022
The New Mills Festival's two week town celebration is starting to come together. We're now asking for event organisers to let us know their wonderful plans for this year so we can pull together an amazing programme for everyone to look forward to.
If you're thinking of hosting an event, or if you want an event included in this year's programme, you can find all the details of how to enter on our website www.newmillsfestival.co.uk. There's also lots of useful information on how to make your event as successful as possible.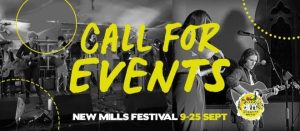 The programme is already filling up fast especially for the weekend dates, so the festival Programming Committee especially welcomes any events that can be held on weekday nights in order that we can have a well-balanced festival programme.