Artcore January Newsletter
This is a year of creativity and possibility. After the challenges of last year we will look forward to creating the year ahead together with you.
On behalf of Artcore and the team wishing everybody a very happy and healthy 2021! 2020 was indeed a tumultuous year, the uncertainty of our physical wellbeing has brought us even closer to the Derbyshire community. As we rightly believe that the pandemic year affected all of us, in one way or the other. This in turn resulted in valuing our community all the more.    In the history of the UK, the economy has been badly hit. Though the government has aided both businesses as well as the cultural sector, the adaptability from the physical realm to virtual reality has been both challenging and excruciating.  
Though COVID-19 measures and tier system and lockdown have somewhere altered our physical plans for Artcore's artistic programmes this year. We nevertheless persevered, by reaching out to artists as well as our communities virtually and sending artists art packs as well as material that will help them to participate in online exhibitions and art talks. During the past 8 months, since first lockdown happened, we have been successful in conducting artist conversations, exhibitions, competitions as well as artist residencies virtually. Only last month we concluded "Present Tense, Future Perfect?" with two artists, Kelly O'Brien and Thomas Wynne. For this month and coming months, we have three ongoing residencies and art exhibitions for East Midlands based Artists - In Memoriam - Postcard Art Exhibition and Auction, Cabin Fever - Artists in Residence and Circling the Square – Visions of an Unmade City. 
We also take this opportunity to thank each one of you, you stood by us and supported Artcore in these testing times. Keeping the government measures in mind, that are beneficial for Derby residents and UK residents at large, we at Artcore endeavor to keep both our artists and the Derby community engaged and updated with our programmes virtually.
Aditi Kumar
Facebook: https://www.facebook.com/ArtcoreUK
Instagram: https://www.instagram.com/artcoreuk
Twitter: https://twitter.com/ArtcoreEngland
---
Cabin Fever:


"Cabin fever (noun) a state characterised by anxiety, restlessness, and boredom, arising from a prolonged stay in a remote or confined place."
Cabin Fever Residencies in Osnabruck Square
As a result of the first and now second lockdown, many of us have had to spend time in isolation and confined in our homes, and we've asked artists in Derby to respond to this theme by literally taking up residence in our cabin in Derby City Centre.
Artcore's Gallery, in the centre of Derby, faces onto Osnabruck Square, (named after Derby's German twin town of Osnabrück) in which there are three 'cabins', small retail units that operated as a café, a flower stall and a newsagent. Working in partnership with Derby City Council we now have the use of the former newsagent, and a budget for artists to take up residence in it for a month at a time. We'd originally planned for the first artist to be in residence in January, but due to the lockdown it is more likely to be starting in March or April, depending on Government guidance.
We asked artists to propose projects and activities which would creatively engage with members of the public, with workshops for members of the public during each residency, animating Osnabruck Square with their creativity and celebrating the people and communities of Derby.
We've selected the first two artists:
Nicki Dennett is a printmaker who likes to mix images and text together to create a story across a series of prints. She often uses an old wooden type set and metal type to create text within her images. She will be running workshops where anyone can come in and print images and create text, telling their own stories of how they have been spending their time, in a positive way, during the pandemic, and would like to create a book or magazine as well as an exhibition of the work that people make.
http://www.nickidennett.co.uk
 
We have also selected Dan Webber, who is an award-winning LGBTQ+ poet, producer, events co-ordinator and promoter. Earlier in 2020 Dan created a project called The Derby Witness, a poetry and street art trail written in response to the Coronavirus lockdown. The work consisted of 49 lines of text submitted by members of the public, summing up their experiences of the UK wide National Lockdowns of 2020. The piece was first commissioned by Derby Feste, with additional support from Cathedral Quarter Derby, St Peters Quarter, Derby and Derby City Council, and the texts were spray painted at locations around the City Centre in September 2020. Dan wants to invite more people to contribute their texts, adding to the original 49, running poetry and creative writing workshops in the Cabin and filling it with the words of Derby people.
http://imgenrefluid.com
 
We've suggested to Nicki and Dan that they could collaborate during their residencies as well as working on their individual projects, and we'll be able to tell you more about what their plans are and how you can get involved soon.
---
Artist Callout - Circling the Square:
Callout for Artists in Residence
"The truth is that man has an uncanny faculty of adapting himself to new conditions. He learns to admit and even, in a sneaking sort of way, to like new and strange forms. The new form is at first repugnant, but if it has any real vitality and justification it becomes a friend." - Frederick Etchells, from the introduction to Le Corbusier, Towards a New Architecture We are looking for two artists to take up supported residencies with Artcore responding to the title 'Circling the Square – Visions of an Unmade City'.
Deadline for submissions: 10 January 2021
To apply visit https://www.curatorspace.com/opportunities/detail/circling-the-square--visions-of-an-unmade-city/5021 or check https://artcoregallery.org.uk/opportunities.
---
Exhibition - Present Tense Future Perfect?
"Present Tense, Future Perfect?" title befits the present uncertain times we are presently living in. The pandemic year 2020- a year has been marked with fear of a life of oneself and our loved ones. A constant trepidation that was furthered by closed spaces and prolonged lockdown months. This residency and the upcoming exhibition at the beginning of the New Year 2021, both reflect on the current ethos of our community and society at large.
Our two resident artists Kelly and Thomas was selected for this residency and had started working on their individual projects since the beginning of October. During the month of November, we had both the artists discussing their work in a virtual talk that was attended by fellow artists and art enthusiasts. They were in conversation with our programme producer David Gilbert. Their artistic creations will be a part of an online exhibition that will be open virtually at the beginning of 2021.  
Thomas Wynne has been working with the medium photography for quite some time. He also experiments with different other mediums such as video installations, variation in light and sculpture. He is a participating artist in our residency, "Present Tense, Future Perfect?"
During the conversation with David, he stated that "For this residency, I want to think about the way that we may, in a not-too-distant future, inhabit another planet. Mars in particular. I have drawn some similarities recently; the COVID pandemic has been affecting the world for 9 months thus far, and it would take a manned mission 9 months to journey to Mars with our current propulsion systems. For both of these, stepping out into a new world is pertinent."
 
He often draws inspiration from Greek mythology and mythological heroes by using their names for his works that are based on space missions.   
Our second artist for the residency is Kelly O'Brian. Her work explores the realm of subconscious memories. Her visual practice is informed through the exploration of human psychic abilities. The manifestation of this exploration is evident through her psychic drawings and techniques of automated writing. As a part of this exhibition, she has explored the in-between space of absent memories of her deceased father. This she has achieved by adopting a methodology of working through different processes of photography and interacting with clairvoyants. Her methodology can prove to be interventional in the broader discourse of contemporary visual arts. In her words, "Using the insights of clairvoyants and then translating it with photography to construct a narrative around my father, a story that would otherwise cease to exist. The drive behind making this work stems from a feeling of a lack of control within my historical narrative and landscape, which has a connection to the global pandemic and how we might experience it psychologically: where the majority of us are struggling with unpredictable change; a flux of confusing information which leads to insecurity on what our future (short and long-term) might look like."
She is currently working with the origami fortune teller for large-scale installation work.
---
In Memorium:
The global pandemic has had a huge impact on everyone and in response, Artcore invited artists based in the East Midlands to be a part of this project by making postcard-sized artworks. The idea is to paint or draw, paste a collage or a photograph, write a poem or a prose text – whatever leaves the artist with a sense of closure, of emotional relief, of expressing what they have been unable to do so as yet. 
We have been receiving some amazing artworks and some very touching stories connected with each of the artworks.
So far we have more than 35 artist who have sent their visual expressions. These will form a part of a virtual exhibition and the contributions will be exhibited at Artcore Gallery as a circle of embrace that we hope will bring together so many of us with a shared sense of loss and help us come to terms with our life from now onwards.  There will be a 'silent auction', with 50% of the proceeds going to the artists, and 50% to support Artcore in continuing our 'In Our Thoughts' project, working with our communities to support them through the pandemic. 
If you are an artist and interested to contribute to this programme, please get in touch info@artcoregallery.org.uk
---
Hopes and Dreams - January Activity Programme:
Our January programme is on the theme of Hopes and Dreams and we feel that it is now, more than ever, that we need to dream big and hope for a better future.
"Creativity doesn't wait for that perfect moment. It fashions its own perfect moments out of ordinary ones." Artist - Bruce Garrabrandt
The prospect of staying at home can feel overwhelming but we have designed an online programme which will give you tangible ways of using creativity to help you to make plans and set goals. Also, through this creative journey you can learn how to become more mindful and plan time to rest and take stock.
So why not join us this January to make, play, explore and create the year ahead? You never know where it will take you!
Sign up for our programme here: https://forms.gle/bES95K2NHzB5LJg3A
---
#stayconnected Mindful Moments with Pam Sidhu:
Join Pam Sidhu on facebook live at 11.30am every Monday for Mindful Moments
https://www.artcoreuk.com/art-surgery
---
Motivational Mornings - Show and Tell: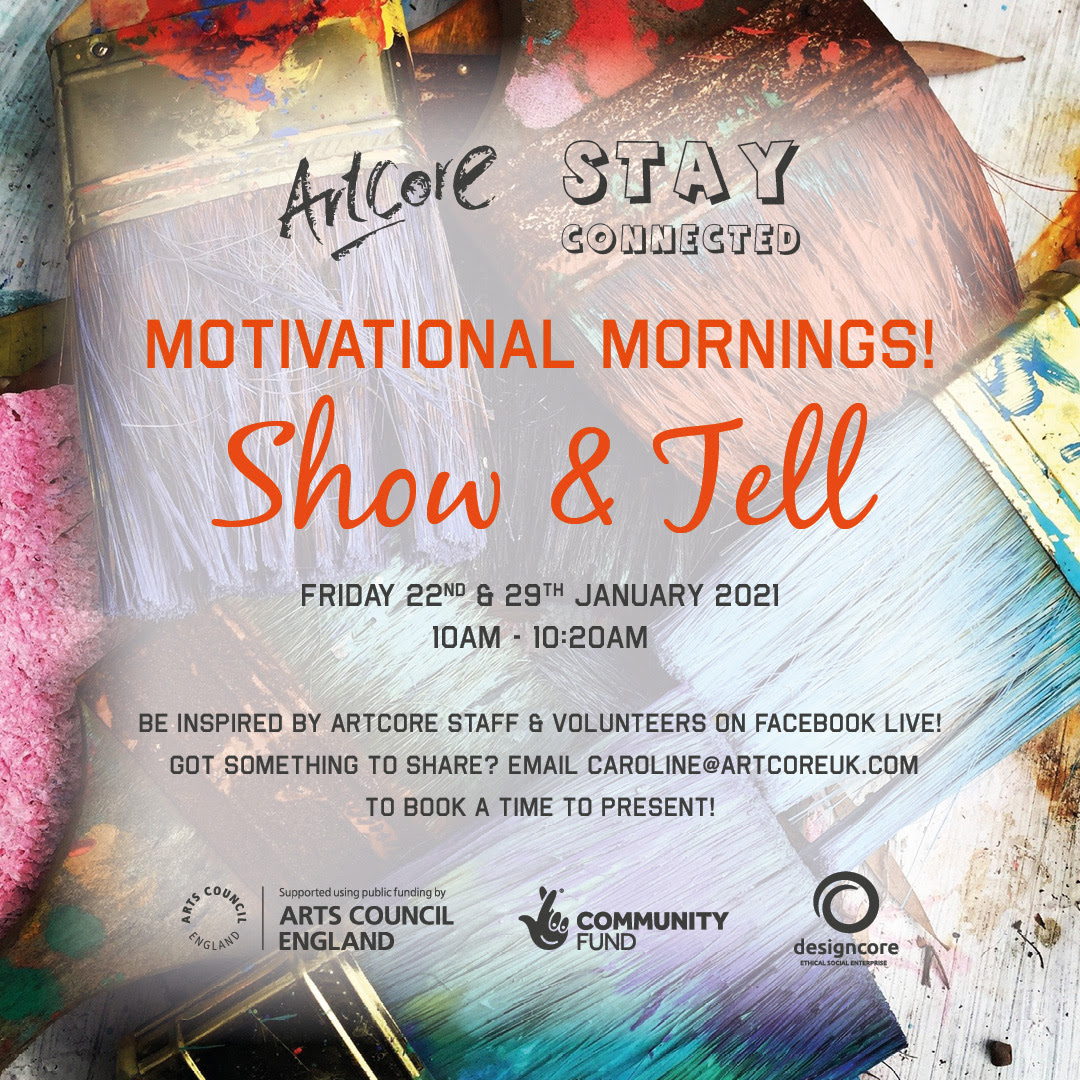 Join Artcore staff, volunteers and participants every Friday morning at 10am on Artcore Facebook for #stayconnected Motivational Mornings Show and Tell. Got something you'd love to share. Get in touch to be added to the programme!
https://www.artcoreuk.com/art-surgery
---
Beginning to Becoming:
Over December participants finished their mosaic coasters with Magdalena Aron and we had very special guest speaker, painter Sarah Perkins, before the Christmas break.
Sarah told us about her journey from the police officer to artist, and about her Pet Portraiture paintings including the highs and lows of being a freelance artist. The talk was followed by a q&a and opportunity for participants to do their own SWOT analysis of their creative journeys.
On Tuesday 19th January at 12.30pm - 2.30pm we will starting our Print Making sessions with artist Nicki Dennett, learning how to use organic objects to print.
If you are interested in joining this dynamic craft course then there's still time to sign up.
https://www.artcoreuk.com/beginning-to-becoming
---
ESOL - Creatively Learning English:
We run a creative support programme for anyone who lives in Derby and doesn't have English as their first language. This involves online art tutorials, receiving an art materials pack, a Facebook support group, ZOOM sessions with artists and emails containing language support videos.
https://www.artcoreuk.com/esol-learning-english-creatively
---
Shape your Future:
Printmaker Nicki Dennett has been leading the printmaking sessions with Horizons 6th form as part of a year long class programme which will result in an exhibition later this year. Over January they will be exploring how to create gelli prints and lino cutting in their Thursday sessions.
---
Art Enhancing Life - Children:
Starting on Thursday January 21st  at 4.45pm - 5.30pm on Facebook Live artist Hannah Lord will be leading the sessions on the theme of Hopes and Dreams on Facebook Live
Over December Connie Burley led the Thursday children's sessions making paper angels, pop up Christmas cards and paper wreaths.
https://www.artcoreuk.com/ael-childrens-art-classes
---
Art Enhancing Life - Community:
From Monday 18th January 2021 at 10.30am-11.15am on Facebook Live she will be returning with the theme 'New Year, New Start, Empowered Self'. In these sessions she will be teaching creative journaling techniques and focusing on what participants would like to achieve in the year ahead.
Over December Dawn Campion led our Festive Creation classes making Gonks and pinecone Christmas decorations.
https://www.artcoreuk.com/ael-adults-art-classes
---
Future Endeavours:
We are very excited to be launching Future Endeavours this month, our new project which is designed to harness the ideas, energy and skills of those involved.  Through the programme, young people from Derby aged from 10-18 will work with professional artists and one another to build confidence in their creative abilities and develop transferable life skills.
Future Endeavours aims to provide a fun insight into career pathways and opportunities to enhance the social mobility of young people in the city and participants will be encouraged to share ideas and explore different art mediums such as print-making, ceramics, motion animation and other digital technologies.  Sessions will last for 90 minutes on Saturday afternoons for six weeks online.     
There will be two groups each week for Future Endeavours with those aged 10-14 in our 1pm to 2.30pm session and those aged 14-18 in a later one from 3pm to 4.30pm.  Each group will have the opportunity to create their own work and collaborate with both artists and one another on a piece of work to be displayed at the Artcore Gallery in Derby City Centre.  Older participants will also have the additional experience of creating items to sell in our shop and developing their own small business as well as hearing from special guests about the operations and functions of self-employment.   
Stay tuned for more information! If you would like more information about Future Endeavours, please email catriona@artcoreuk.com and keep an eye on our Facebook page for details regarding enrolment. 
---
Christmas Party: 
We had a great time with you all at the ZOOM Christmas party on the 18th December celebrating 2020 online at Artcore. Well done to all those who received special awards and certificates! Also, to those who won the Festive raffle. We hope you enjoy the prizes and look forward to seeing you at sessions this year!
---
YouTube Channel:
Missed our facebook lives? You can catch up everything on our Youtube channel to view at your leisure!
https://www.youtube.com/channel/UClGguDIZgJG4KkN2bGWpqKg
---
Donate:
Please donate to Artcore
Times are very uncertain at the moment, but despite having to shut our doors to the public, we are still working hard to reach out to the people who need us the most.
We are delivering packs of art materials and running Stay Connected workshops for people who feel isolated and older people in care homes. We are making online resources for young people and families. We've even been running sessions on Facebook, Zoom and You Tube.
Can you help us to Stay Connected with people through creativity? A small donation to Artcore could make a difference to the well-being of people who really needs a creative boost at the moment.
Help Artcore to spread the joy of creativity! Just £10 would cover the cost of a person being able to participate in one of our courses.
Thank you for your support.